The Splash and Spritzo showrooms are the result of our passion for creating extraordinary bath and kitchen spaces for our clients. Catering to retail customers and design professionals, our showrooms feature high-quality, cutting-edge products from the industry's top brands, at a variety of price points, in traditional, transitional, eclectic, and contemporary styles.
Our premier state-of-the-art flagship showroom, Splash Newton, is designed to inspire, with functioning displays, allowing guests to consider the characteristics of vessels, faucets, fixtures, finishes, and accents. From a single product to an extensive master bathroom renovation, our team of seasoned design consultants can assist with selecting the perfect fixtures, hardware, accessories, and more.
Get Inspired
Your Mid-Century Modern Bathroom Product Picks

The Mid-Century Modern style, which was introduced in the middle of the 20th century, blends functionality and clean lines. The simplicity of this aesthetic favors the use of wood and practicality over ornament. This month, we presented our followers with two Mid-Century Modern options for every product and asked that they pick their favorite. […]

Your Industrial Bathroom Product Picks

When designing a bathroom space, it's easy to be overwhelmed by the number of choices. Even if you have a particular style in mind, there are still multiple options for each product. The Industrial style is a no frills and fuss aesthetic. It blends metals and woods into its design […]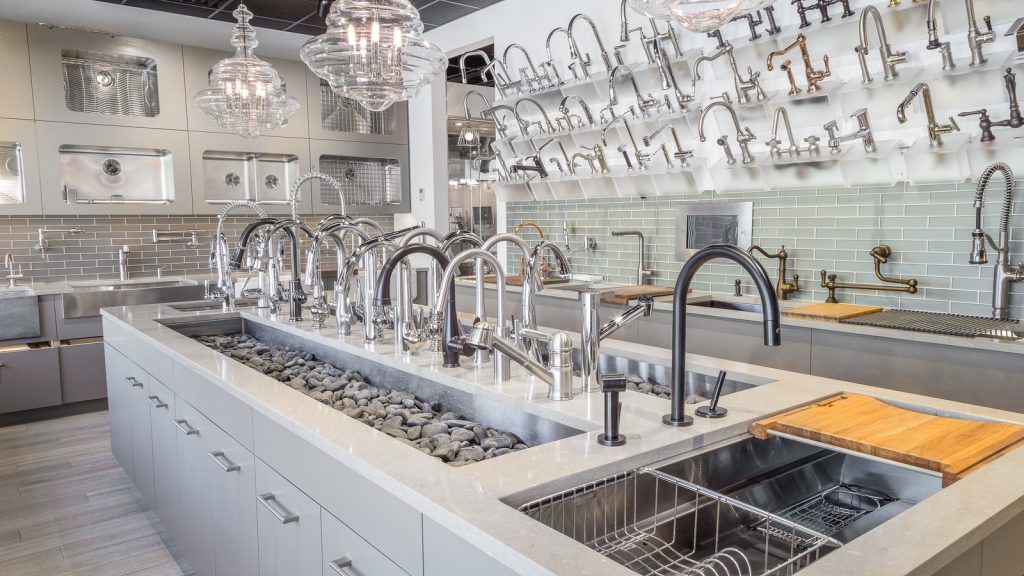 Our Products
Our showrooms carry the latest and greatest in bath and kitchen products from the industry's top brands at various price points. Are you looking for something specific?
Follow Us on Instagram
Shop the latest in kitchen & bath design while exploring traditional, transitional, eclectic & contemporary styles—six locations throughout New England.