A good mirror is essential for any bathroom. Considered the primary area for "getting ready," the bathroom is the space where the majority of your grooming takes place, and almost all of it requires a mirror.
This month, at the Splash and Spritzo showrooms, we look at our favorite bathroom mirrors and why these mirrors stand out amongst the rest. Whether they include proper lighting, storage or are just a simple mirror perfect for any styled space – these mirrors make getting ready in the bathroom a breeze!
Electric Mirror Eminence™ LED Lighted Mirror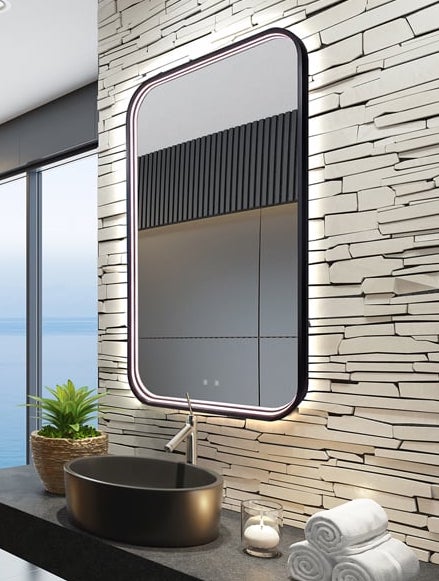 This lighted mirror has risen to a place of Eminence™ among designers, bringing prestige and distinction to every room it graces. A unique shadow-box frame, inward-facing task lighting, and ambient wall glow combine to create a perfect balance of form and function.
What Makes this Product Stand Out?
The built in LED light with the one-touch dimmable feature makes this a perfect mirror for makeup and grooming.
Robern Murray Hill Mirror Collection
Blending clean lines with elegant curves adds dimension and depth to your design, transforming the bathroom into a warm and welcoming sanctuary while providing functional storage where needed most. The Murray Hill Collection features a traditional arch shape and a contemporary pill shape that make a dramatic visual impact while lending softness to your space. The innovative design of the Murray Hill Collection nestles a recessed medicine cabinet within the soft curves of a framed pill or arch mirror. Thoughtful details and accessories enrich the everyday experience and make the getting-ready routine feel effortless.
What Makes this Product Stand Out?
The Electric Upgrade gives you the ability to add USB charging ports and electrical outlets to your Murray Hill cabinet, so you can stay connected without cluttering your countertop. The unique swivel-out Quick Caddy keeps the items you use every day — like cosmetic brushes, cotton swabs, and toothbrushes — within easy reach, even when the cabinet door is closed.
Kohler Essential Mirror 
Reflecting Kohler signature quality and attention to detail, the KOHLER® Essential mirror collection is the perfect way to complete your space. Drawing on simplicity and versatility, the collection is available in three soft silhouettes and a variety of dynamic finishes. Add a touch of sophistication and character to any part of the home with a KOHLER® Essential mirror.
What Makes this Product Stand Out?
Simple but timeless, this mirror might not have all the bells and whistles, but the flawless design will stand out in any style bathroom. Plus, if you're looking for a quality mirror without breaking the bank, you can't go wrong with the essential mirror. 
UTTERMOST Jamal Mirror
This stately mirror features dual wooden frames attached at the top and bottom with a scratched silver leaf finish. Frames have open detail for wall color to show through.
What Makes this Product Stand Out?
Unlike the other mirrors featured, this one can be featured vertically which gives you a full-length mirror, or horizontal, perfect to go above your longer vanities.